Google announced today that Samsung Nexus S will be the first phone to get Android 2.3 Gingerbread when it goes on sale December 16 at US Best Buy stores. It will be available for $529 unlocked or $199 with 2-year T-Mobile contract. Similarly to Nexus One, Nexus S is a developer phone with an unlocked bootloader (for easy installation of custom system images) and is not locked to a carrier (can be used on any GSM network using a SIM card).
Hardware
Nexus S specs include 4.0″ WVGA Super AMOLED screen, 1Ghz Hummingbird CPU, 16GB internal storage, Quad-Band GSM, Tri-Band 3G (T-Mobile frequencies), HSDPA, Near Field Communication (NFC), gyroscope, 5 MP rear camera w/ flash and front-facing VGA camera. Notable omissions from the specs are: HSPA+, microSD slot, 720p recording.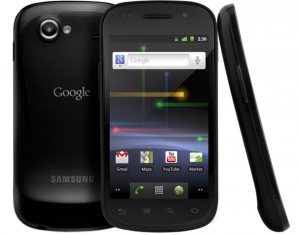 Software
Nexus S will be the first phone to ship with Android 2.3 Gingerbread and with NFC chip, gyroscope and front facing camera it is equipped to fully utilize new Gingerbread features.
For more info see Google's Nexus S page, brief Techcrunch review (good news: no problems with gps) and watch the promotional video: